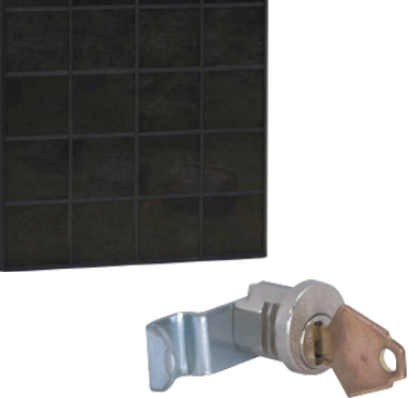 Material Selection
We make it a priority to exclusively manufacture the highest quality columbaria that are designed and constructed with the best materials and craftsmanship. Our elegant columbaria feature a style and construction that will make the best use out of your interior or exterior space. The design eliminates the need for supports, requiring less material and optimizing space. The inner compartments (niches) are made with galvanized steel compartment walls and feature reinforced ribbed polycarbonate nichess. The inside niches feature a secure five pin tumbler lock with unique keys for added security and peace of mind. The niches feature a tamper resistant security cam with a reinforced back lip that makes breaking into the inner niche door difficult at best. Our niche compartments feature the same secure lock system as our private mailbox line and has a proven track record with over a million sold. In addition, the individual niche doors are covered with an outside outer shell of 12"x12" granite tiles inserted into a durable extruded aluminum track which is anodized black for decades of weatherability. Each columbarium is designed and manufactured to be weather-resistant.
Durability
The columbaria are weather resistant and designed to keep the elements from getting into the interior of the unit. The unit features a sealed roof panel, anodized aluminum extrusions, and natural stone tiles for long term weather resistance and stability.
Custom CAD Engineering and Design Options for Special Projects
There is a large realm of possibilities when developing columbaria due to their flexible design. If our standard options don't fit your needs, our on-staff CAD engineer can design custom sized columbaria upon request. Please submit the number of niches and niche sizes that the project requires and whether it will be placed indoors or outdoors. Our design engineers will gladly help you with your projects by utilizing advanced CAD modeling software, such as SolidWorks and AutoCAD. Columbaria can be customized in house to accommodate a combination of different size niches and design specifications for your special projects. Visually seeing your customized design on a CAD drawing creates excitement and a clearer understanding of the project and its needs.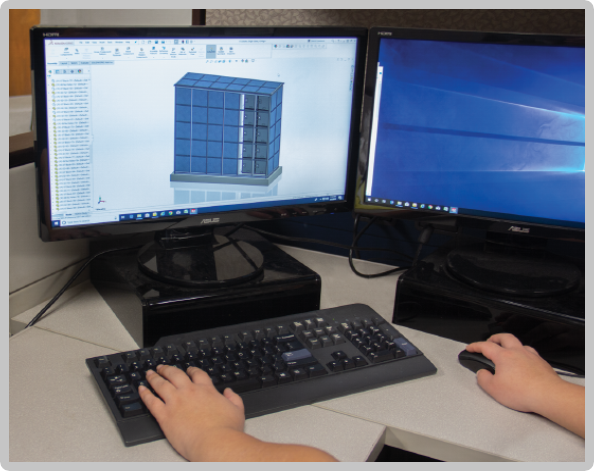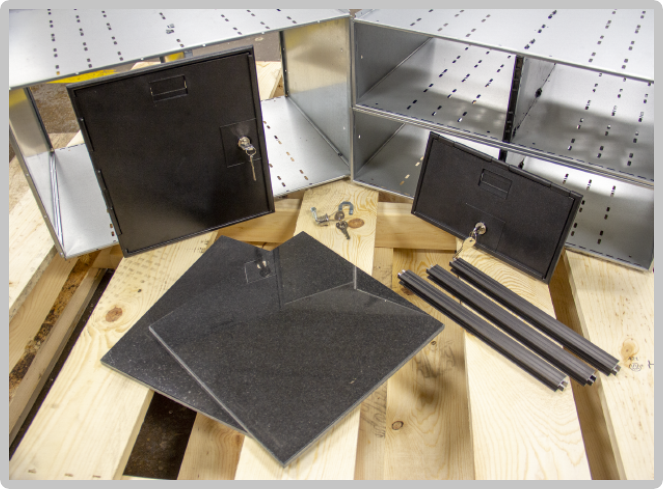 Fabrication and Manufacturing
Based in Milwaukee, WI, we demonstrate Midwestern values of hard work and personalized customer service. Our climate and location make it possible to offer efficient cost and production time in order to deliver our products anywhere on time. Our columbaria are fabricated and manufactured to deliver the highest quality and value, ensuring that each unit will last for decades. Each columbarium is carefully designed and documented with 3D CAD. We have both planners and architects on staff that will directly insert the columbarium into the project drawings and can present designs in a three-dimensional space, so customers can view the potential design. Our 3D tools will create an accurate coordination and location to assess structural mounting points and blend our columbarium with existing areas and design elements. Our in-house architects will utilize advanced manufacturing and design tools to create each customers aesthetic and functional requirements. We will provide 3D models and realistic computer models that illustrate the final design creation.
Whether your columbarium is one of our standard designs or a customized version, our durability will represent decades instead of years. When choosing our materials we focus on appearance, security, longevity, ease of operation, and maintaining a clean and moisture free environment for long term functionality. The internal structural framework is composed of commercial 6061 grade aluminum, adding strength and support for the elegant stone exterior. The aluminum beams are the foundation and strength of our columbarium. When using granite, the granite can be fractured with a solid blow from a vehicle or even a person. Our 6061 aluminum will enhance its ability to withstand blows and create durability. We construct two layers of exterior granite tile with an interior lockable polycarbonate niche that will protect the contents at all times. Aluminum structures will also use space more efficiently than stone, increasing the number of niches that can be used to generate revenue in the same physical space. When using aluminum, we will ensure weather resistance from the elements, and prevent the long-term degradation that comes with stainless steel structures. Before the manufacturing process, our architects and planners will assess the foundation and structural mounting elements as well as the appropriate design and documentation. Our process will assist our customers in creating their desired project while ensuring any codes or regulations are followed.
Our base unit (1x2) high grade aluminum structure is MIG welded for decades of durability and strength in both indoor and outdoor use. After constructing the frame and welding it in place, we will install the desired number of niche compartments. The compartments are riveted together with a durable stainless steel coated high grade rivet. After the compartment is assembled, the niches are inserted in the aluminum frame and are riveted to the structure, making them permanent. Once the niches are installed, they are riveted in place. The niches are ribbed and feature a tamper resistant reinforced back lip. For additional security, the niche compartments feature a secure five pin tumbler lock that engages on the frame to prevent break-ins. They also come with unique keys for enhanced security. For the exterior, aluminum extrusions are added to the framework. Stainless steel fasteners are placed on the structure and the natural stone granite tile is slid into place and the entire unit is capped with a pre-assembled granite top. The interior locking aluminum niche system provides a second level of security incorporating slot brackets and tamper proof stainless steel screws. To provide flexibility for customers, the niches can be replaced easily and inexpensively.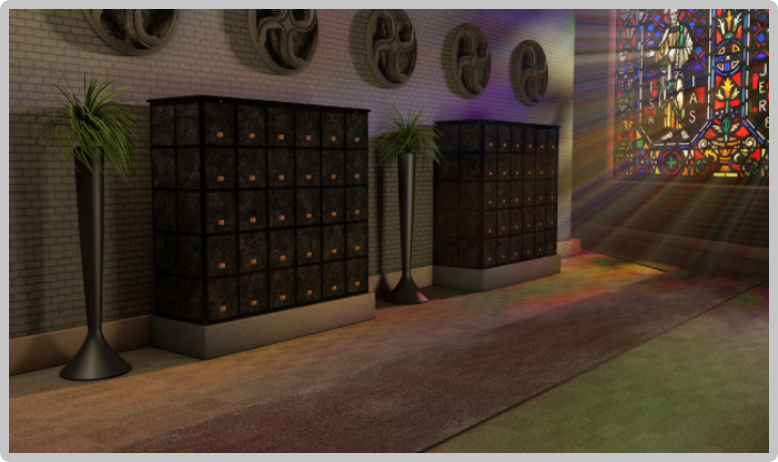 Mounting Indoors:
Columbaria are mounted directly to the floor in any establishment.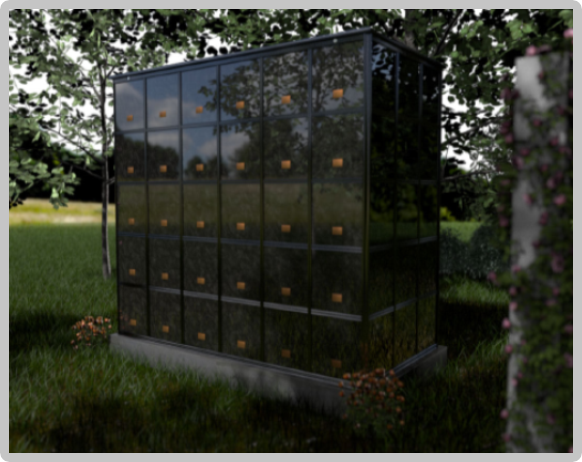 Mounting Outdoors:
Columbaria that are mounted outdoors will feature high grade structural cement anchors.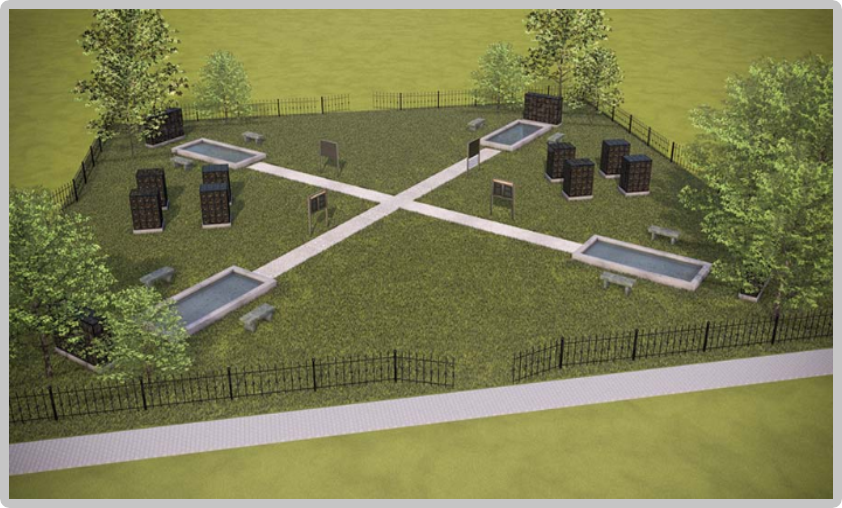 Architecture and Design
Expression of a unique identity is something that all communities, churches, families, and individual clients share. Our columbaria serve a variety of clients that have different needs and requirements in order to make their visions of a one of a kind memorial design a reality. We work with individual wishes and present personalized options, making sure we build long-lasting relationships with existing and future customers. Make the most out of your space by choosing single-sided columbaria to fit against a wall or double-sided to create more space on each side. Our columbaria are the most space-efficient, making it easy for customers to integrate them into any environment.Each customer has the ability to send us concept designs and our engineering staff will create 3D models and will assist with choosing design elements. We will provide all the necessary plans and will meet specific requirements during design and construction.
Each columbarium has the ability to be custom engineered with a modular design and 3D rendered previews so customers can witness design possibilities before implementation. We ensure that the design and construction will be a long lasting and elegant addition to any indoor or outdoor area.
We Ensure Each Columbarium
Encompasses These Elements:
• Security: Offer peace of mind for loved ones. Create resistance and protection from vandalism, unauthorized entry, or the elements. We provide tamper resistant niches that offer comfort to customers, knowing their loved ones will not be interfered with.

• Freedom of Design: Create custom niche configurations with the most economic columbarium on the market.

• Weather Resistance: Each columbarium features injection molded weather resistant seals.

• Maintenance–Free: No need for upkeep and the structure will last for decades.

• Space–Efficiency: Create the possibility of future expansion and make sure you maximize space with columbaria that adapt to its surroundings and are constructed with more efficient materials.
• Durability: Our columbaria are built to last and will provide decades of protection from rust, rotting, cracking, the elements, insects, or dust.

• High–Density: Each columbarium is constructed with high density materials that will withstand busy environments.

• Lightweight: Its aluminum structure and the ability to easily remove the granite tiles will make it easy to install and transport if needed. Our columbaria are much more lightweight than traditional units on the market.

• Affordable: We offer the most cost-efficient design on the market so anyone can provide a peaceful and beautiful resting place for their loved ones.

• Privacy: Each niche has its own granite exterior stone and locking inner niche compartment. Individual keys will off entry of authorized personnel only.

• Superior Strength: The internal aluminum structure, polycarbonate niches, concealed locking hardware system, and granite exterior are made to ensure superior strength for decades.
Engineering and Construction
Columbariums are constructed with aluminum extrusions, frame weldments, sheet metal compartments, polycarbonate niches, plastic dividers, and granite tiles.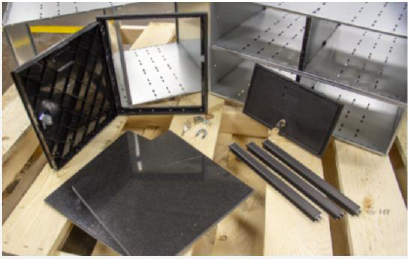 Assembly
The assembly consists of several sub-assemblies nested together into a structural unit with the body and roof attached.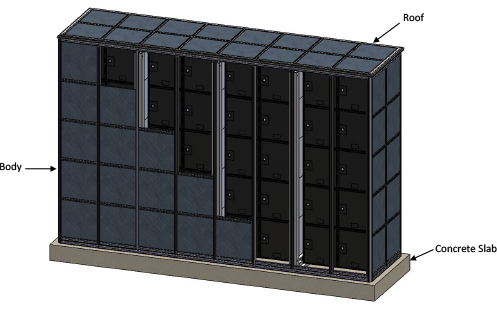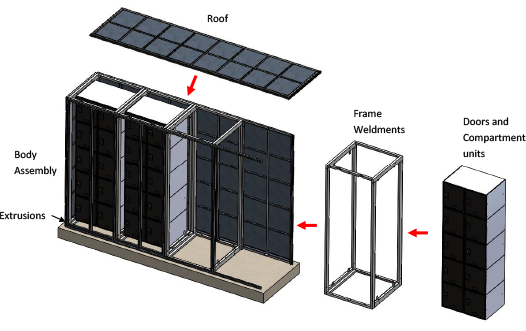 Assembly Continued
All parts are partitioned and fit together like a puzzle. Niche compartment units are installed into frame weldments. Frame weldments are nested and anchored together forming the internal structure of the columbarium. Extrusions are installed on the exterior and provide a solid structure for laying the granite tiles. Lastly, a roof is attached to the body assembly.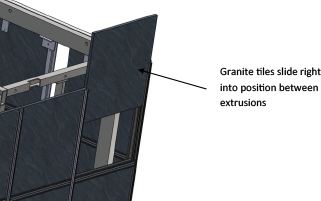 Concrete Slab
Concrete slabs are not included with the columbarium units. Overall sizes of slab are to be determined by the customer based on their preferences. Customers must check with their local building code and regulations before laying the slab. Recommended thickness of the slab is 3.5" or more.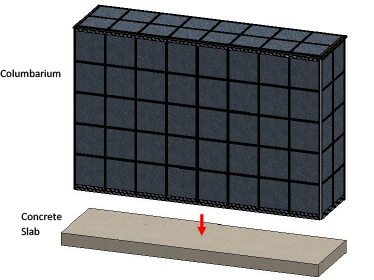 Anchoring
It is recommended that columbariums are anchored to slab using just 4 anchor sleeves, 2 on each side. Additional anchors can be added but not recommended, as the more anchors are used the more chances of the concrete cracking. After columbarium is placed and centered on slab, 1/2" holes are drilled through predrilled holes, see below. 3/8" anchor sleeves are then used to anchor the unit to the slab through the drilled holes. Recommended length of anchors is 4.5"- 5.0".