What is the 2018 Cremation Rate in the US? And how is this affecting the death industry?
The National Funeral Directors Association has released its 2018 Cremation & Burial Report with very interesting statistics for the funeral industry and consumers. This year the cremation rate is predicted to reach 53.5 percent, with a forecast that the national cremation rate will now reach 80% by 2035.

This is a staggering shift in the funeral industry, where traditional burial has long been the preferred funeral option for families, with a price ticket of around $7,000 - $10,000. The NFDA figures for the average cost of a burial funeral in 2017 are $8,755 (including a vault but not cemetery plot fees). The profit-margin to be made in traditional funerals has sustained many funeral homes for years, even if not performing a high number of funerals. The NFDA report that the average NFDA member funeral home handles 113 funeral cases per year.

We are already witnessing an era of funeral homes closing, or being acquired, as funeral businesses scramble to respond to their decline in profit-margins. In 2017,there were 19,322 funeral homes in the United States, and this number is down from over 22,000 several years ago.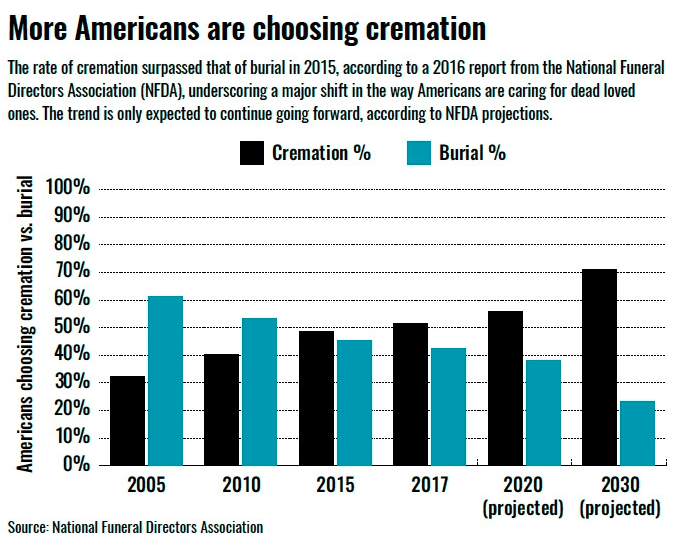 What do you need to understand about cremation prices in the U.S.?
The average cost of a cremation service varies significantly. This depends on what type of cremation service is selected and which funeral services provider is providing the services. A cremation funeral costs on average $6,260(NDFA 2017). This service is similar to a traditional burial however the deceased is cremated after the service.

A cremation memorial service is where the cremation is conducted and then a memorial service held with the cremation urn present. This type of service generally costs less than a cremation funeral, as preparation of the deceased's body for a funeral service is not required. The average cost of a cremation memorial is not as well-documented, but research indicates that the average cost is around $3,300.

A significant growth area in the cremation trend is the demand for direct cremation. A direct cremation is where no ceremonial services are provided by the funeral home. The deceased is cremated and the cremated remains returned directly to the family. According to the Cremation Research Council, the average cost of a direct cremation in the U.S. is $1,100.
What does the growth in cremation mean for a funeral business?
Considering the average prices for cremation services as highlighted above, the cremation trend can only mean a drop in revenue for a funeral home. If the average NFDA member did 113 funeral cases per year as average traditional funerals, his gross revenue would be $989,315. If he does 50/50 traditional burial vs. cremation, and is still performing full-service cremations, his revenue decreases to $848,347. By 2035, when the cremation rate is forecast to reach 80%, his revenue has decreased to $763,767 (based on 2017 average prices).

However, this is not taking into account that the growing consumer demand in the cremation trend is for direct cremation. The DFS Memorials network of independent affordable cremation service providers report that 80% of their cremation cases are direct cremation. If we consider the demand for simple, no-fuss,affordable direct cremation, then revenue forecasts for a typical NFDA member funeral home in 2035 could be nearer to $300,000. This, surely,indicates a need for a major business strategy change for funeral business owners,especially full-service funeral homes with high overheads, that have been sustained by the high profits made from traditional funerals!
How does the shift to cremation affect funeral consumers?
The cremation trend is making death care more affordable and more flexible for American families. Cremation, especially a cremation memorial or a direct cremation, can alleviate the time-critical logistics and overwhelming arrangement, of organizing a traditional funeral service.

As a nation, we have become more transient and less traditional, so the notion of cemetery plots for families to visit holds less significance. Baby boomers could be said to be leading a change to cremation, simplicity, and less conventional funeral rituals. But at the same time, many families in the U.S.,faced unexpectedly with funeral expenses, simply cannot afford $8755, or even $3,300. A simple, direct cremation is the solution to overcoming the burden of funeral expenses.

A direct cremation takes care of the immediate need to arrange a dignified 'disposition' of the deceased. Once the cremated remains are returned to a family, they are free to coordinate a memorial service of their own choosing, or simply decide to inter an urn or scatter the ashes. This puts the family in the driving seat of personally conducting a memorial that befits their lost loved one. And, all at a fraction of the cost that a traditional funeral would have cost!

So, largely this shift towards cremation means that funeral consumers can take more control over the ritual of a funeral or memorial. As the interest in cremation increases,funeral consumers are becoming more clued-up about searching online for cremation prices. This is already leading a change to how funeral homes operate. The FTC funeral rule has been in place since 1984,but has not always been fully complied with by funeral service providers. This rule requires a funeral home to disclose prices, but still you can visit a funeral home website that has no prices, or call a funeral home and struggle to get clear pricing information over the phone.

Still some in the funeral industry are resisting this shift by consumers. Largely, I believe,driven by their fears over the diminishing importance of the role of a funeral director/funeral home in the death and grieving ritual. Several industry forums have invested heavily over recent years in the need to "educate" funeral consumers. This education is chiefly about encouraging consumers that the services of a funeral director to conduct a 'personalized' funeral or memorial are important to the grieving process. In other words, in order to heal, you need to spend money with a funeral home!

There once was an era when a local funeral director knew every person he conducted a funeral for. In rural America, this is likely still the case. But, in many large metro areas, families have no connection with a local funeral home and therefore the significance of a stranger performing a personal memorial service has no value. In fact, it can be more meaningful to conduct a direct cremation, and then hold a personalized memorial service with input from family and friends.
Direct cremation and online arrangement
With the consumer trend for direct cremation, there is also a growth in online arrangements. If arranging a simple, direct cremation some consumers have no desire to visit the funeral home, or are making arrangements from another city or state. More funeral providers are adapting their websites to cater to online cremation arranging. This can reduce costs for the funeral home, which can in turn be passed onto the consumer. Online arrangement portals can be both invaluable and disempowering. The industry has a reputation for wanting a funeral consumer to enter their funeral home to have face-to-face opportunity to 'up-sell' funeral products and services. We are witnessing that some families now prefer to handle the disposition planning without having to cope with what can be an overwhelming experience in the funeral home.
What is the future of the death-care industry in the U.S.?
This is an interesting question right now! The death-care industry is experiencing an epoch of change and there is a price-war going on in the industry! Let's look first at the corporate death care market.
For many years, the largest death-care corporation, Service Corporation International (SCI) has been on a significant acquisition strategy. SCI trades as Dignity Memorial,alongside other brands. In 2006, it acquired the Alderwoods Group, a significant competitor. 2010, and it acquired Keystone North America and then in 2011 it acquired 70% of the outstanding shares in The Neptune Society (a national direct cremation company). In late 2013, it acquired Stewart Enterprises, its then nearest corporate competitor.
Dignity Memorial, operating in the U.K, announced in February this year, that it was cutting the price of its cheapest funeral by 25%, in a response to concerns over 2018 forecasts and declining market value. SCI has also been expanding its Neptune Society locations and very actively marketing direct cremation plans.
Across the U.S. there are also smaller regional corporate funeral companies, and you see the same pattern. Acquisition, (even if to take another funeral home out of competition), and investment into direct cremation brands.
Even some large full-service independent funeral homes are dividing their operation in different brands to be able to capture all markets. A full-service funeral home is also operating an affordable cremation company, under different brands,and often without making it clear to the consumer that the 2 businesses are owned and operated by the same family.
The 2018 NFDA report states that 30% of funeral homes already own and operate their own crematory,with just under 10% stating they intend to install a cremation machine in the next 12 months. These figures still reflect only 40% of funeral businesses operating their own crematories by the end of 2019.
In our article on Cremation becoming the preferred choice in 2014, I wrote about the prospect of 'Super Crematories'. Visiting DFS Memorials providers over the last 3 years, I have now witnessed this prospect becoming a reality. I have visited with funeral owners in Miami, Houston and San Francisco who have all up-scaled their operation to increase cremation volume by installing multiple and high-speed cremation retorts that can complete a cremation in half the time of a standard retort and operate 24 hours a day.

| | |
| --- | --- |
| | These are independent funeral operations that are conducting over 500 cremations per month, with a large proportion being direct cremations. In some cases, the family never visits the funeral home or crematory, all arrangements are made online,by phone and fax, and the cremated remains are mailed back to the family or scattered by the funeral home. They have expanded their original service area to increase the volume of cases they handle, and the core of their operation is a call center and a fine-tuned logistics operation. As these operations upscale, the smaller funeral homes who cannot compete |
are likely to lose business. It is likely we are going to see an increase in small funeral businesses closing over the next few years.

So, interesting times for a once very stoic business! Those funeral business owners that adapt and embrace this shift towards cremation, and deliver exactly what consumers are demanding, are likely to be conducting 80% cremation cases in 17 years'time and servicing much wider service areas than they originally covered when they started in business.

For the funeral consumer,the current shift to cremation is making death-care more affordable, and it is possible we will see cremation prices decrease over the next few years. However, if the big players take out their competitors as they upscale, we could see prices rise back up. Also, gas prices will continue to impact on cremation costs and there is the probably that county fees for issuing cremation permits could increase as cremation becomes the preferred choice.