NFDA News Releases
Cremation on the Rise: NFDA Predicts the National Cremation Rate Will Climb by a Third Within 20 Years
NFDA Members
Download a copy of the 2018 NFDA Cremation and Burial Report today!

The report and other exclusive cremation-related resources are available to you at no cost as a benefit of your membership (login required).

Brookfield, Wis. (July 12, 2018) – Over the next 18 years, the rate of cremation in the United States is projected to increase by nearly 30 percent according to the 2018 Cremation and Burial Report, released by the National Funeral Directors Association (NFDA). Already having outpaced the rate of burial for three consecutive years.
, the national cremation rate will reach nearly 80 percent (or 2.80 million cremations per year) by 2035, based on a variety of factors including changing consumer preference, weakening religious prohibitions and environmental concerns.

According to the 2018 report, the 2018 cremation rate is projected to be 53.5 percent and the burial rate is projected to be 40.5 percent. While cremation gains popularity nationwide, burial remains the leading end-of-life choice in several southern states, including Alabama, Arkansas, Kentucky, Louisiana, Mississippi, Tennessee, Utah and West Virginia. However, by 2035, the rate of cremation in all 50 states will exceed 50 percent, up from only 20 states over that threshold in 2016.
Moreover, 12 states – located in the northern area of the country – will far surpass a 50-percent rate of cremation five years before 2035. By 2030, NFDA predicts these 12 states (Colorado, Hawaii, Maine, Michigan, Minnesota, Montana, Nevada, New Hampshire, Oregon, Washington, Wisconsin and Wyoming) will reach a cremation rate greater than 80 percent, exceeding the anticipated average national rate for 2035.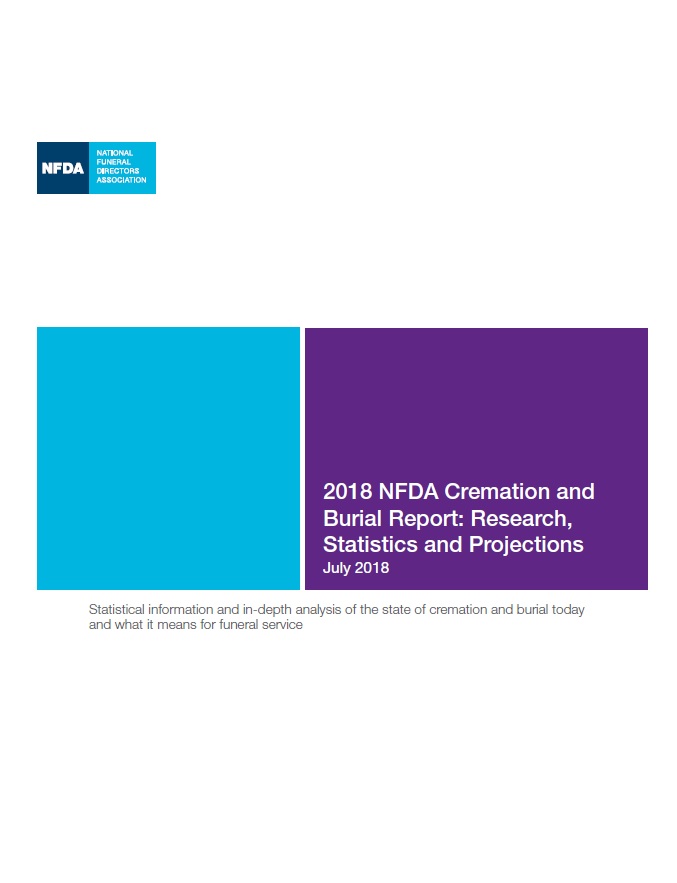 In general, the rate of cremation tends to be higher in large urban areas, as cities often have a more transient population and a higher demand for land and burial plots. Funeral homes have responded by establishing licensed crematories, with approximately 30 percent of funeral homes now operating their own crematories.
"As families' end-of-life preferences evolve, our members are helping them understand the wide range of options available when it comes to honoring the life of a loved one who wishes to be cremated," says 2017-18 NFDA President Kenneth A. Cahall, CFSP, CCO. "Funeral directors are committed to ensuring every family is able to commemorate the life of their loved one in a personal, meaningful way, regardless of whether they choose cremation or burial."
One choice families may not know they have is having a full funeral service and viewing prior to cremation, an option that 26.9 percent of families chose in 2016.
While 39 percent of cremated remains are returned to families, 37.1 percent of remains are buried at a cemetery, 1.6 percent of remains are scattered at a cemetery and 8.6 percent are placed in a columbarium. An additional 19.8 percent of cremated remains are scattered at non-cemetery locations.
According to the 2018 NFDA Consumer Awareness and Preferences Study, of the 61 percent of Americans who would choose cremation for themselves, 51.1 percent would prefer to have their remains scattered in a sentimental place.
With shifting consumer preferences and ever-expanding options, families may not know where to begin. Created by NFDA, RememberingALife.com serves as a guide to honoring a life well-lived, from planning a tribute to mourning a loved one. The site offers guidance on how to start the planning process, the kinds of decisions consumers will make, and the many options available to make a tribute personal and meaningful. The site highlights information on service options, details about cremation and burial, and prefunding options. If visitors can't find exactly what they are looking for, they can fill out the "Ask a Funeral Expert" form and an experienced professional will get them the information they need or refer them to a local NFDA-member funeral director for further assistance.
About the NFDA 2018 Cremation and Burial Report:
The statistical projections contained in the 2018 NFDA Cremation and Burial Report were compiled by the University of Wisconsin-Madison Applied Population Laboratory Department of Community and Environmental Sociology. State-level deaths by method of disposition data were collected from state vital statistics departments or similar state regulatory agencies for the years 2002-16. Other findings presented in the report are from proprietary NFDA research studies, such as the 2018 NFDA Consumer Awareness & Preferences Study.
About the National Funeral Directors Association (NFDA):
NFDA is the world's leading and largest funeral service association, serving more than 20,000 individual members who represent nearly 11,000 funeral homes in the United States and 49 countries around the world. NFDA is the trusted leader, beacon for ethics and the strongest advocate for the profession. NFDA is the association of choice because it offers funeral professionals comprehensive educational resources, tools to manage successful businesses, guidance to become pillars in their communities and the expertise to foster future generations of funeral professionals. NFDA is headquartered in Brookfield, Wis., and has an office in Washington, D.C. For more information, please contact 800-228-6332 or visit www.nfda.org.
# # #
Note: Members of the media may contact Ms. Koth or Ms. Heffron for a copy of the report.

Contact: