National report and local funeral directors say growing number of families are choosing cremation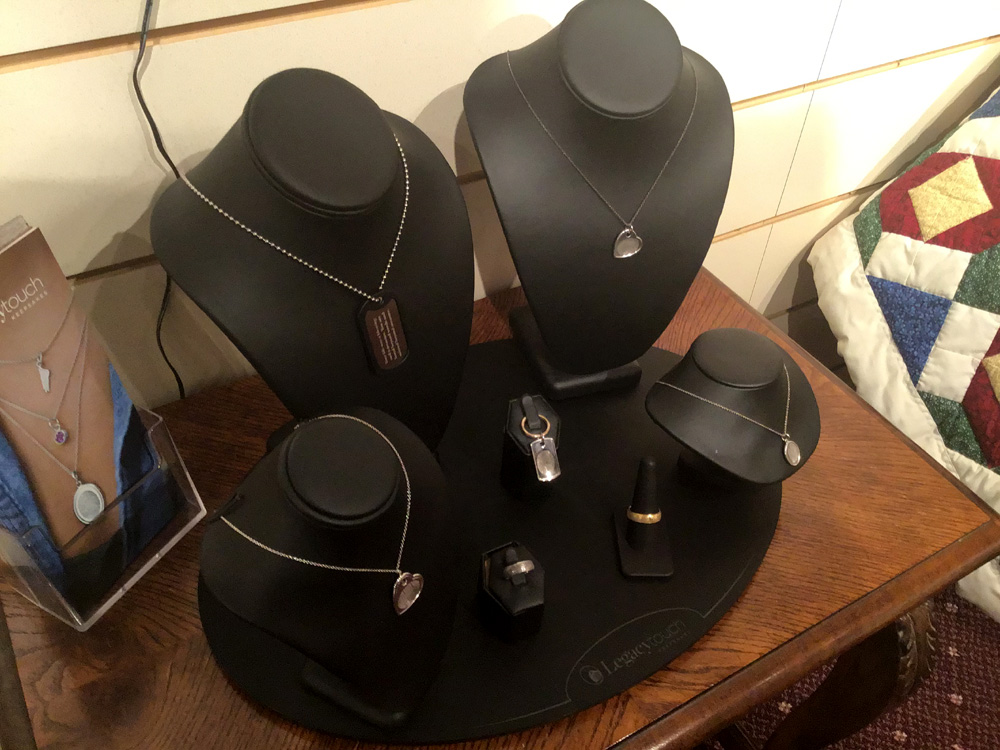 Keepsake options by the company Legacytouch on display at Cesarz Charapata & Zinnecker Funeral Home in Waukesha. Michael Palmisano, funeral director and manager, said memorial keepsake lines have been expanding in recent years.
Eileen Schmidt/Special to Conley Media
BROOKFIELD — Driven by factors like economic and environmental concerns, flexibility of options and changing religious requirements, cremation is on the rise.

The national cremation rate is expected to increase by a third in the next 20 years, according to the 2018 Cremation and Burial Report, recently released by the National Funeral Directors Association. The association is headquartered in Brookfield, with an office in Washington, D.C., according to a news release.

The report projected the 2018 cremation rate at 53.5 percent and burial rate at 40.5 percent, and the expected growth will bring the cremation rate to nearly 80 percent by 2035, according to a release from the association.

At Shimon Funeral Home in Hartford, Kacey Neinstedt said staff has been witness to the growing number of cremations in the last four or five years.

"The popularity has definitely increased," said Neinstedt, a funeral director at Shimon, where she said the numbers are about evenly divided between cremations and burials.

"Within the next 10 years, it will be over that," said Neinstedt, referencing to the growing number of cremations.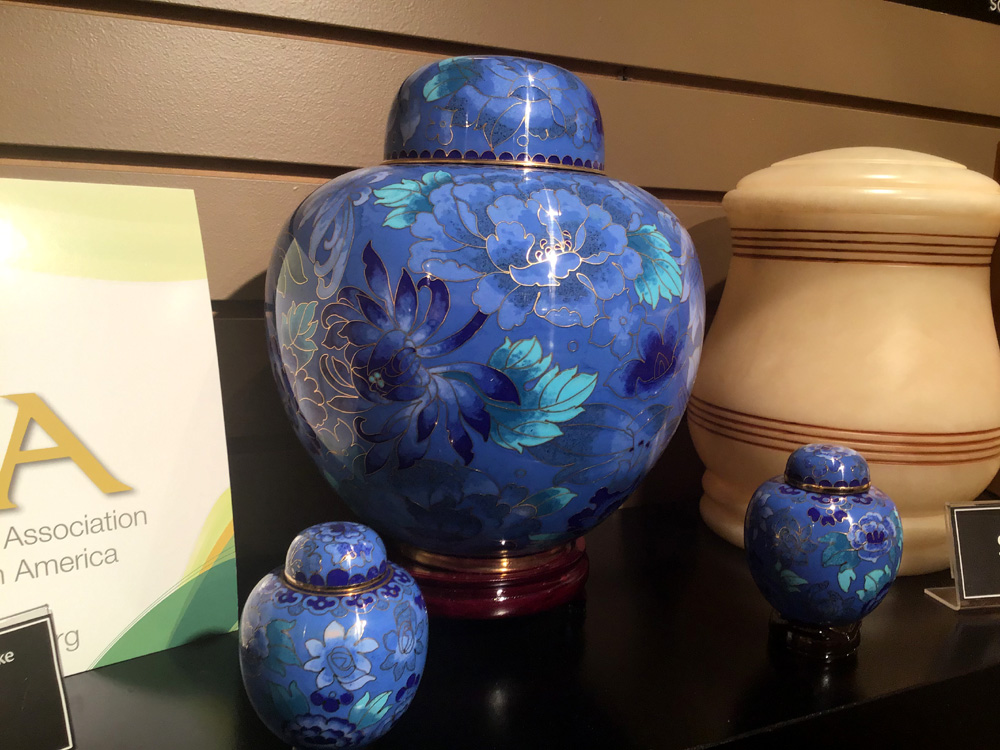 Urns on display at Cesarz Charapata & Zinnecker Funeral Home in Waukesha. Cremation rates nationwide are expected to reach close to 80 percent by 2035, according to the 2018 Cremation and Burial Report, recently released by the National Funeral Directors Association.
Eileen Schmidt/Special to Conley Media
'Your imagination is pretty much the limit'

For some, the choice is about economizing.

"It is a little more cost effective to have a cremation. If people don't have cemetery property, that can be a rather expensive cost," said Michael Palmisano, location leader and funeral director at Cesarz Charapata & Zinnecker Funeral Home in Waukesha.

But more than cost concerns, he said families are finding that they like the diversity of options cremation affords.

"With a burial, there's only one option, being buried in a cemetery. With cremation, your imagination is pretty much the limit," Palmisano said. "You can be set into a canister and blasted into outer space, you can be set down in a coral reef and pretty much anything in between."

At Cesarz Charapata & Zinnecker, a variety of urns are on display featuring different colors and imagery. While families can bring in their own urns, many like to purchase them directly through the funeral home, Palmisano said.

He pointed out several wooden urns offered made by a Mukwonago-based cabinet maker.

"There is uniqueness to these pieces, as a human being is unique. No two pieces are ever the same," Palmisano said. "He leaves a lot of knots in the wood, a lot of the imperfections. That's where a lot of the beauty is."

Also growing in popularity are memory glass and keepsake creations offered by companies that incorporate cremains or fingerprints of a loved one, according to Palmisano.

"It allows the family to have something tangible to hold onto," he said.

Changing religious beliefs have also played a role in the cremation trend, Palmisano said.

"It wasn't until recently, within the last couple of decades, that the Catholic Church found cremation an acceptable form of disposition," said Palmisano. He added that some religious traditions do not approve of the practice.

The option to have a full funeral service and viewing before cremation may also be influencing the trend. It was an end-of-life approach chosen by about 28 percent of families in 2016, according to the NFDA report.


Regional differences

Cremation can afford scheduling and memorial options to families spread across wider geographic areas, Palmisano said.

"Maybe your roots are not quite as deep as they would have been in previous years," he said.

Others have chosen to wait for a memorial or burial until a date of personal significance.

"We did have a family that waited seven-and-ahalf months to lay (their) mom to rest on her wedding anniversary," Palmisano said.

And with more transient families, Palmisano noted some of a loved one's cremains can be buried at their home and others with children or in other places of significance.

While cremation rates are rising nationwide, burial is still the leading choice in southern states, the NFDA report found.

Meanwhile, northern states are expected to far surpass the 50 percent cremation rate before 2035. Wisconsin is among 12 states projected to have a cremation rate of over 80 percent by 2030, the report said.


Making plans

In light of these changes, funeral homes are looking for the best ways to accommodate families, according to Neinstedt.

"We constantly talk about within the field," she said.

At Shimon, the staff emphasizes the venue and event planning services they can provide, along with preplanning options.

In Wisconsin, a cremation must follow several legal steps, according to Palmisano, including the issue of cremation permits from the county, obtaining a signed death certificate from a doctor, authorization by legal next of kin, and the passing of a 48-hour waiting period.

Both Neinstedt and Palmisano emphasized the importance of discussing family plans for end of life, whatever those choices may be.

"Letting people know whether you want to be cremated or not, or have a viewing or not can go a long way," Palmisano said.

"That little piece of information alleviates so much stress for your family."

For more information about NFDA, visit www.nfda.org.